DR. LOPA SHAH
Once I had a dream, a dream to achieve something enriching, something igniting, a dream to  bring a smile, a dream to be a world-class dentist. Since the age of 15, I have been working hard to be where I am today, but yes, miles to go before I sleep!
My love for people, sharing their pains has paved my journey towards building a community where we can celebrate the beauty of smiles, a modest abode for myself and my people, the Charter Oak Dental, where I get to meet people and relieve them of their dental distresses.
Dentistry for me has been less of a profession, more of my Life's calling. The sparkles in my patient's eyes when they see amazing results after restorations, root canal treatments, crowns, bridges, veneers, Invisalign, and other dental procedures, give me immense pleasure. Since my early childhood, the value of consistent learning and growing has been instilled in me, so I always look forward to expanding my horizons, seeking out opportunities to learn about the latest developments in the dental world. I also feel appreciative of the supportive team that has helped me in turning my dreams to reality in such a short span.
---
DR. NICK MODI
The most eminent visiting expert, Dr. Nick Modi specializes in implants and surgery. He puts his best foot forward to provide the finest care that happens through endless efforts. With a mission to never fail his patient's credence, he adheres to all his patient's requests.
His expertise spreads from cosmetics to restorative dentistry, making him the best sought after choice among his patients for these services. One visit to him for the root canal and oral surgery treatments can make a remarkable difference in your perspective towards dental care.
Since 9 years of his professional experience, Dr. Modi has been striving to contribute to patient care in the best way possible!
Driven by a passion for exploring and educating himself in advanced dentistry, he pushes himself every time to adhere to his learnings-related commitments. This is what he believes in "Serve your patients the best – by learning every day."
Having a Doctorate of Dental Medicine in one hand, Dr. Modi has acted consistently towards his goal of restoring and designing smiles through all his life. Also part of the American Dental Association, the Academy of General Dentistry, and other important dental organizations, he is surely an honest-to-goodness confidant for all your dental agonies.
Currently residing in Ellington, Dr. Modi loves to spend his time with his wife and daughter. Besides his passion for work, he believes in broadening his horizons so he sees travel, football, and baseball as his getaways.
You can never unsee the true New England fan in him!
DR. SANDEEP JAGINI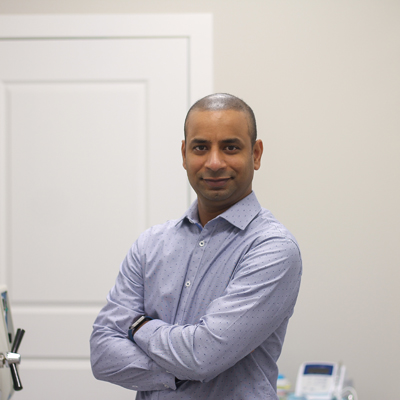 Need Dental Implants, Think Dr. Sandeep Jagini!
A well-trained professional with in-depth expertise of dental implants, our office manager, Dr. Sandeep has been instituting high standards in prioritizing patient's needs and their dental health, putting himself at the forefront.
With a firm hand in surgically placing and restoring dental implants for a single tooth, multiple teeth, and implant-supported complete dentures, he has restored so many smiles of his patients, with much compassion.
Dr. Sandeep truly understands the need for 2-way communication and believes in having a dialogue to reach the root cause of a problem that further helps in strengthening the long-term relations with his patients. With him around, you will get one step closer to improving dental health with each passing day.
One smile a day is his mantra for prolonging dental health!
Having a 2-year degree in DMD from Boston University Goldman School of Dentistry in 2006, Dr. Sandeep has been awarded with the Best Outgoing Student by Academy of Osseointegration for attending seminars and assisting implant surgeries during his college days.
A genius in the genuine sense, he values each patient and learns from their cases building upon his knowledge.
---
ENID DIAZ SANTANA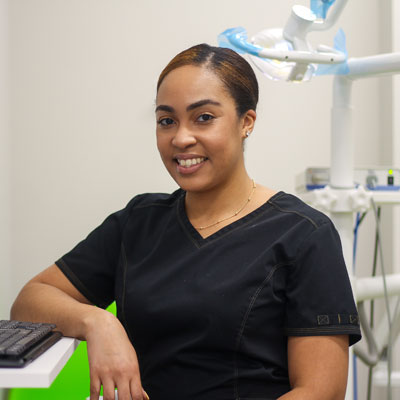 Enid, the patient's confidant, is well known for creating charming smiles and ensuring that nothing wrong ever happens to that grinning healthy smile of yours. As a result, all of her services are performed as per you, with every characteristic of your bite in her mind. A continual learner, Enid is committed to serving her people comfortably and accurately, investing her maximum time with her patients in the most advanced dental technologies setup. Working as the Lead Dental Assistant at the Charter Oak Dental, Enid has taken patient care to another level.
What is even more amazing is how well she gets along with kids and can cure their fear of the dental chair
You can sense her passion and dedication to make your smile brighter and healthier. She visualizes and brings her passion for life by helping her patients in the best way possible and brings the entire team together to work comfortably with the patient as their first priority.
With her Graduation degree in the Dental Assistant program and her ongoing Dental hygiene school, she works continuously towards making her expertise strengthen with time. Besides, you can always converse with her in English and Spanish.
ANGELICA MADERA
Having a calm and cheerful charisma, Angelica Madera has mastered the art of making her patients comfortable. With an experience of over 5 years in the dental field, she is extremely devoted and takes special care to make her patients feel healthier and better with every passing day.
She strives for a peaceful and therapeutic environment for her patients so that her patients are never distressed due to their health-related issues. Aiming for the better welfare of her patients, she works vigorously towards helping her patients make a well-informed decision regarding the treatment options available.
Madera is well-known for adding a personal touch to her patient's health with her in-depth expertise in understanding how dental health varies for all ages. Be it a young kid or an older self, she understands the need for treating and caring for each of them differently.
You will be amazed at how quiet and easy-going she is for treatment. A firm believer of quality care, she ensures that you never compromise with your health at Charter Oak Dental.
Much of a fun-loving soul, she loves spending time with her dogs.
---
ODALIS ROMAN
Our Patient Coordinator, Odalis Roman, a pivotal contributor in day to day functioning of our entire office is extremely zestful. She is the one that makes things happen around our space. Quick to her feet, she treats the patients very compassionately and helps them get the right treatment for their specific cases.
Eager to help her patients in every way they need, feel free to reach out to her for planning and scheduling meetings with the doctor to create a treatment plan, and to attend all your billing and insurance-related queries.
With 3 years of in-hands expertise in the dental field, Odalis is very well equipped to lend the helping hand like an expert to help you with all the dental queries that you go through while getting treated.
Quite Eloquent in English and Spanish, she loves to read. In her free time, she looks forward to the quality time spent with her family and friends.